"The chorus's ghostly final Amen seemed to go beyond music and into a divine, mystical moment in time
that is beyond rational explanation." The Guardian, London

-------------------
Post-Concert Reception
Holders of Patrons' tickets are cordially invited to an intimate Reception after the Concert,
at the Harvard Club of New York City, 35 West 44th Street.

Patrons will enjoy canapes, an open bar and a short private musical performance of lighter music
by Tenebrae's small ensemble "The Pits".

Patron tickets: $150, $110; Tax-deductible above $75.
Includes preferential seating at the Concert itself.
To purchase, go to www.gemsny.org, or contact the Concert Manager:
robynrae@swissglobal.org; (212) 699-0903
----------------
Cannot attend but would like to support the concert?
Your contribution is greatly appreciated, and will be acknowledged in the
concert programme (time permitting) and on this website.
Other Friends benefits also apply.

To make a contribution, click here.

Then follow "Become a Friend of the Swiss Global Artistic Foundation" by clicking in any one of the circles.
You can fine-tune the amount you contribute as you proceed through the five steps.
Please observe this process even if you are already a Friend—we will account for it appropriately.

Thank you!
-------------------
See Tenebrae on YouTube!

Clip 1 Clip 2 Clip 3 Clip 4 Clip 5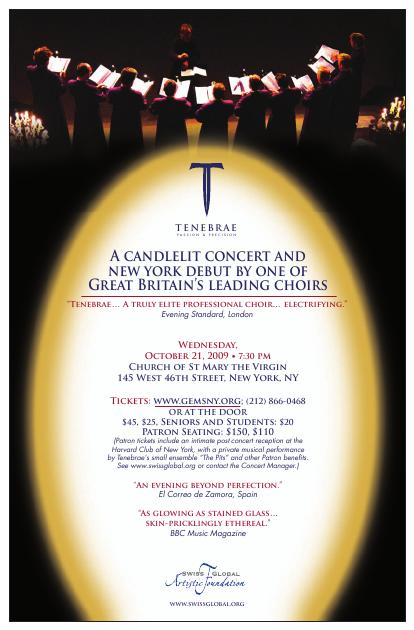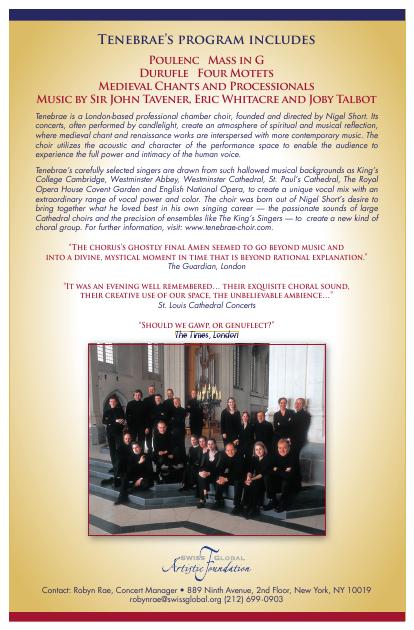 "Almost too beautiful to be true." La Liberté, Switzerland