The doctors took time off from their busy professional activities to join together for the first time in public as The Atypical Trio, and performed seldom heard works under the auspices of the Foundation and in aid of an African children's charity.
The large audience in the lovely setting of L'Hermitage Foundation, Lausanne, heard the trio admirably perform chamber music by Albert Roussel, Tommaso Giordani and Leonhard von Call. Michael Green, the Foundation's Public Relations Advisor, gave a talk on the life and work of the French composer Albert Roussel, currently the subject of much renewed public interest.
The event concluded with a convivial reception, and the generous donations collected were presented by Swiss Global Founder and Director Heather de Haes to Martine Jacquier of the L'Hymne aux Enfants, a Foundation aiding deprived children in Burkina Faso, Africa.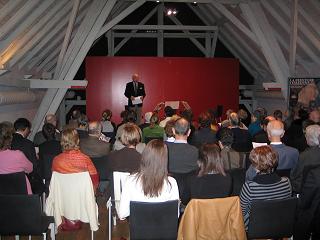 Public Relations Advisor Michael Green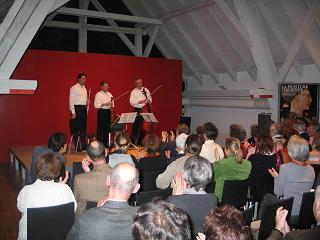 Professors Jean-Blaise Wasserfallen
flute
, François Spertini
viola
and Jean-Paul Dépraz
cello