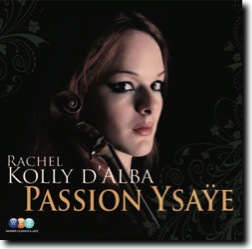 Rachel Kolly d'Alba's first CD, Passion Ysaÿe (pictured left), releases worldwide on the Warner Classics label in April 2010. The Swiss Global Artistic Foundation is pleased to announce that her second CD will be recorded next month with St Jean, the first violin of The Evangelists. The recording will be followed by a concert tour of works by Ysaÿe, featuring the artist performing with St Jean.
Ms Alba states: "This instrument and its rich, complete, vibrant and soloistic qualities will be the perfect partner for my Ysaÿe tour and for my next CD, which includes the Saint-Saëns 3rd Concerto, some rare poems by Ysaÿe for violin and orchestra as well as the virtuosic and poetic piece Rondo Capriccioso by Saint-Saëns."
On describing St Jean: "The instrument's sound is poetic and subtle, matching perfectly with the French poetry and the brilliance in the musical repertoire itself."

For information about Ms d'Alba's association with Warner Classics:
Here you can find her latest video clips presenting solo sonatas by Ysaÿe:
#1, #2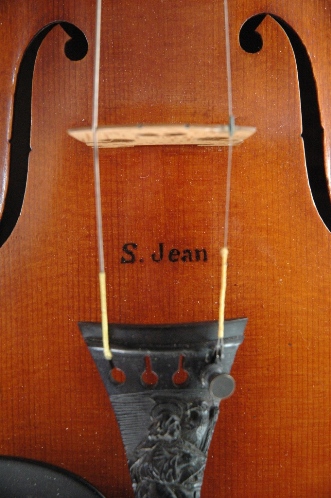 Information about the recording with St Jean:

title: Rêveries & Caprices
recording date: April 2010
orchestra: The Biel Symphonic Orchestra, Jean-Jacques Kantorow, conductor

Camille Saint-Saëns -- Concerto No 3 en si min pour violon et orchestre
Eugène Ysaÿe -- Berceuse de l''enfant pauvre Op. 20
Eugène Ysaÿe / Camille Saint-Saëns -- Caprice en forme de Valse
Eugène Ysaÿe -- Rêve d'enfant Op. 16
Camille Saint-Saëns -- Rondo capriccioso
Ysaÿe Tour Programme (Christian Chamorel piano)
Beethoven -- Sonata No. 4 for violin and piano in a minor Op. 24

Ysaÿe -- Sonata No. 2 Op. 27 for solo violin "dies irae"
-prélude Obsession
-Malinconia
-Danse des Ombres
-Les Furies
Chausson -- Poëme for violin and piano (dedicated to Ysaÿe)

---pause---
Penderecki -- 3 Miniatures for violin and piano (*1959)

Franck -- Sonata in A major (dedicated to Ysaÿe)
-Allegro ben moderato
-Allegro
-Recitativo fantasia. Ben moderato
-Allegro poco mosso
For further information, visit her
website
and
Wikipedia
page.