Arts Global
Events
Past Events
Past information on each event can be found by clicking on its date
Gala Christmas Dinner in London

The Swiss Global Artistic Foundation presented the choral ensemble Tenebrae at Mosimann's Private Dining Club.
End of Year Gala and Reception in Lugano

The Foundation presented its third annual Seasonal Gala at the Villa Principe Leopoldo.
Music and Art against AIDS

An artistic event was held in Geneva to mark World AIDS Day, organized by the Foundation in conjunction with the International Labour Organization and the RUWA Gallery.
Music and Art against AIDS

An event presented in Zurich by Global Art Source, sponsored by Zurich Financial Services.
Foundation presents bust of James Mason

A new bust of the legendary Hollywood star, James Mason, was presented to the Lawrence Batley Theatre, Huddersfield.
Jazz in the Grand Chalet

The Montreux Big Band performed for Friends of the Foundation in the residence of Balthus.
Jours des Arts I

The first annual Jours des Arts retreat took place at the Château de Montcaud, near Avignon, from 7-10 October.
Its theme was "From the Avignon of
The Palace of the Popes
to the Cremona of
Stradivarius
."
Australian Connections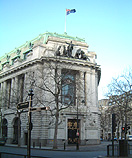 The Foundation supports the performance of Australian music in London.
Rachmaninoff in Seattle

The Foundation was delighted to support the Chinese pianist Lei Weng in a performance of Rachmaninoff's Third Piano Concerto with the Northwest Mahler Festival Orchestra.
The Canton of Vaud, one of Switzerland's main wine-producing centres
A different experience for the Friends of the Foundation.
Friends' Soirée

A musical performance held at the Lausanne Palace Hotel.
Music joins Art at Christie's

At Christie's, a private preview of the Old Masters' Sale and a musical performance.
Master Class on Dvořák's Cello Concerto

The Foundation's first educational event took place at the Beau-Rivage Hotel in Lausanne.
Athens comes to Lausanne

An improbable combination of painting from Athens and jazz from Bern materialised in Lausanne.